Our surfaces
The play of textures on the surfaces is one of the key elements of ILK's design aesthetics. A minute detail to craftsmanship bringing couture-like embroidery on ready-to-wear makes ILK stand out in the market. Surface ornamentation is the highlight of every garment. These textures are created using different surface techniques.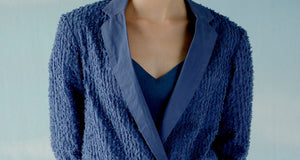 Threadwork
Yarns of threads are treated and dyed in multiple colors further placing them in a linear manner to create a textured ombre effect on the garment.

These yarns are also coiled together to create pom-pom balls and embroidered in different patterns adding elements of interest.
Shop Threadwork
Smocking
It is a fabric manipulation technique used to gather the fabric to allow free movement of the body.
ILK uses these techniques in abstract form by tracing a design on a khakha and further embroidering it giving a smocking effect.
This technique is used to also manipulate silhouettes and is placed in areas to enhance the body shapes of the wearer.
Shop Smocking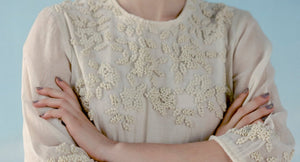 Sequins Ornamentation
Small sequins mainly foam are dyed in different colors and placed in abstract or floral motives of the design.

These sequins are also paired with beads and tacked with metallic embroidery to look impactful. They are placed all over the garment in different patterns.

The garment with this technique looks grand and heavy but the usage of sequins makes it extremely lightweight to wear.
Shop SEQUINS
Applique
A version of appliques is used where small pieces of fabric are laser cut in different shapes of flowers, petals, and leaves.
They are embellished on the surface with beads and used in a manner of repetition to create a 3D effect.
Fabrics like organza are also twisted and molded to create nature-inspired design elements on the garments.
Shop Applique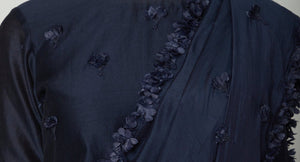 All these textures and techniques are sometimes used singularly on the garments and sometimes with an amalgamation of a couple. Ilk strives to provide you with exquisite surfaces on minimal silhouettes by expressing its love for artistic detailing.
Shop by surfaces