Our Story
ILK translates to a feeling of community that the label creates through its designs.
Driven by a commitment to incredible craftsmanship and a desire to connect with customers, ILK was founded by Shikha Grover and Vinita Adhikari in 2011.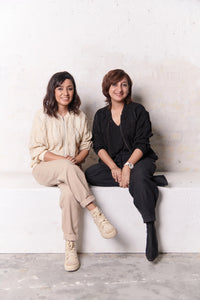 Born in New Delhi, Shikha graduated in Fashion Design from Pearl Academy in 2006 and worked as a designer with design houses of India.

Vinita grew up in the hills of Nainital and completed her studies in 2008 from the National Institution of Fashion Technology (NIFT), New Delhi. She gained some experience working in the industry.

Shikha and Vinita met as colleagues where they became instant friends. Friendship grew bonding over common interests, ambition and soon after into a business together. They realized a lack of availability in handcrafted and ornamented ready-to-wear and edged the idea of ILK.
"
ILK is a clan that justifies a balance between an art form and a design function that expresses today's relaxed lifestyle via a wide range of clothing.

"
With a playful juxtaposition of texture and color, ILK is a bridge that blurs lines between couture and ready-to-wear by incorporating exquisite hand techniques in our everyday wear.

Their debut collection at Lakme Fashion Week Summer/Resort 2012 established the brand's essence of calculated minimalism keeping the feminine spirits alive. In 2014, ILK won the Elle Graduates award and subsequently in 2015, Grazia Young Fashion Awards.

Over a decade, ILK has evolved from a small label to a clan amongst India's fashion elites.


ILK strives to create collections that, through simpler cuts and extravagant design details, strikes the right note between fancy and fun, exceptional and real fashion you can truly adorn.


View our collections